First words here in ages. Between covert sonic experiments that are slowly concatenating into a complex and timely unity, helping to found and run the multidisciplinary art space Ratio, and general life absorption/arbitrariness, much else of importance was held in abeyance throughout 2014. Raptured to finally have occasion to announce some substantial engagements for Khôra this new year.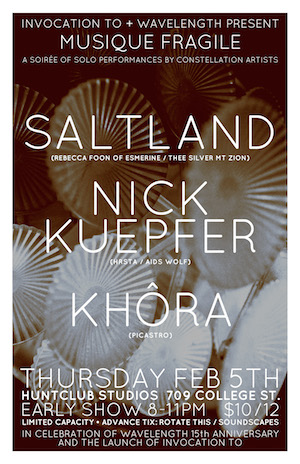 On the 5th of February, Khôra will be playing at Huntclub in Toronto for Wavelength's 15th anniversary curated by Invocation TO and featuring a line-up of artists on Constellation Records. Khôra will then be making a debut performance at the Music Gallery on March 14th. Jump to the Events section for more info.
                        *   *   *   *

In addition to these one-off local shows, Khôra will be on tour in Europe with Picastro through the end of March. I'll be doing a full two weeks with the band and playing as support for a grouping of shows. Some info is currently up on the Events page but expect a more substantial post addressing the tour in the coming weeks.
The above footage is yet another drop in the sea of low quality live videos propagating throughout the internet featuring my modular suitcase. Looking forward to having more to share in this vein soon.