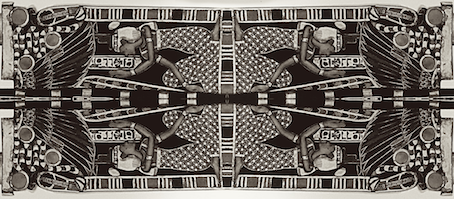 Silent Your Body Is Endless
CD - Private Press Edition of 1000
Track listing:
Body Aperture
Intensive Cartography
Natura Naturans
Hushed Pulse of the Universe
The Desert and the Scream
One is the Other ("Spin, Measure, Cut" addendum)
Reviews:
"This record is a complete revelation. Khôra is the mystic moniker adopted by Toronto wunderkind Matthew Ramolo and Silent Your Body Is Endless is his first release, an album that will haunt your dreams long after you've left this shattered orb. Ramolo is the architect of this beautiful mess, from the playing of the multi-instrumental passages that are tweaked and turned through boxes of effects, processors and electronics, to the laying to tape of his mind's symphony. Elements of drone, contemporary classical, minimalism, anti-beats and post-post await one and all on this glorious journey."
Reviewed by Steve Guimond (Hour News)
"'Silent Your Body is Endless' isn't an album meant to be digested as individual songs, but as a sprawling, droning whole. . .Khora delves into spaces familiar to fans of Brian Eno, Iannis Xenakis or Pan sonic, creating dense ambient soundscapes that flicker and pulse on the edge of your consciousness. The music is subtle enough that you almost forget it's on, until a bristle of noise jolts you back into reality. . .This is an album to stick into your player, hit repeat, bliss out and then get some serious work done."
Reviewed by Steve Marlow (!earshot Magazine)
Crediting:
Printed by Standard Form
Pressed by Samo Media
Mastered by Harris Newman
Hand Lettering and Design Assistance by Marcus Kamps
Produced, performed, written, designed, and assembled by Matthew Ramolo