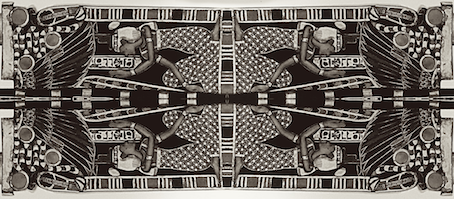 Silent Your Body Is Endless
Constellation Records -
Musique Fragile 01 -
w/Les Momies de Palerme and Nick Kuepfer
Track listing:
Natura Naturans
Hushed Pulse of the Universe
Body Aperture
The Desert and the Scream
One is the Other
Reviews:
"Silent Your Body is Endless', though full of gorgeous resonant billows, is also crawling with intense, fricative detail...Ramolo has honed an idiosyncratic negotiation of acoustic elements – notably guitar, piano and field recordings – with electronics, a negotiation which is both wide-eyed and stricken with vague foreboding"
Reviewed by Nick Storring (Musicworks)
"Shimmering electro-acoustic pieces of supreme beauty…His treated electric and acoustic guitars, chimes and sundry effects have an ethereal, almost dirge-like quality, especially the funereal closer 'One is the Other', which should have fans of Arvo Part or Brian Eno rushing for that repeat button."
Reviewed by Michael Panontin (Canuckistan Music)
"Blends acoustic and electric guitar figures with field recordings, processing the signals with digital interventions into chiming and droning soundscapes that leave listeners free-floating and immersed in worlds reminiscent of the deep sea, boundless desert, or deep space..."Hushed Pulse of the Universe" reads like a Darwinian history of creation with a Taoist bent, single note organisms oscillating and evolving into whirring, complex textures as a late-arriving percussion-pulse signals that all this goes on within us, too."
Reviewed by John Schacht (Blurt Online)
"This album makes me rethink my whole philosophy on the use of bird and water noises: here, they just seem to be happening, as if the artist is dragging a heavy cart of instruments through the glade on rickety wheels...The old chimes and bells that litter the landscape lend the project an air of the ancient divine: monks in tattered cloths, mud-splatted satchels, oaken doors and gold-etched tomes. The five songs unscroll as one mid-length tapestry; to remove one would be like pulling a main thread and tying it to a restless horse. It's a journey well-taken, and the ruts are worth retracing."
Reviewed by Richard Allen (The Silent Ballet)
"As if a silent track off Bjork's 'Vespertine', "Body Aperture" affects a harp-like sound over the natural percussion of sequenced surface samples and a glaring symphony of bright, sawing tones. À la mode, finale "One is the Other" enters a searing Silver Mt. Zion eschatology out of chiming bells and a tympanic panic, emphasizing Ramolo's prowess composing for strings set in complimentary commotions."
Reviewed by Animal Psi
"Like many records in modern music before this one, I was changed the instant I heard it. I didn't need to figure out what time signature was where or how advanced a guitar part or any of the normal conditioning that takes place with how albums are created. I hit play and was taken to a different world, the stamp of something that has earned a special part in my heart as a timeless and innovative piece of art. It is for me now and will be for me down the road one window of the beautiful contributions of this current generation."
Reviewed by Erik Otis (Sound Colour Vibration)
"Focusing on acoustic and electric guitars as his sound sources alongside field recordings and heavy processing, Ramolo produces sublime textures that flit between dense swathes of tones and percussive glitches to almost painful sparseness."
Reviewed by Katie English (Fluid Radio)
Crediting:
Poster Artwork by Joe Dodaro
Screenprinted by Leyla Majeri
Hand Lettering by Marcus Kamps
Mastered by Harris Newman
Performed, produced, and written by Matthew Ramolo
Thanks to Don and Ian, Marcus, Joe, Mark, Joey, and Leyla